Zjawisko dobroczynności w Rosji: cechy charakterystyczne
Rostislav Yarema

badacz niezależny
Słowa kluczowe:
dobroczynność w Rosji, tradycje miłosierdzia, prawosławie, przedsiębiorcy końca XIX – początku XX ww., mecenat
Abstrakt
Historia rosyjskiej dobroczynności pełna jest zadziwiających i jaskrawych przykładów, a także perspektyw odróżniających ją od analogicznych zjawisk na Zachodzie. Autor ukazał cechy charakterystyczne zjawiska dobroczynności, co pomoże w dogłębniejszym jego zrozumieniu. Jedna z jego fundamentalnych podstaw została określona jako głębokie i wszechstronne powiązania z prawosławiem, a także tradycjami miłosierdzia ukształtowanymi już w przedchrześcijańskim okresie rosyjskiej historii, które następnie przybrały postać zorganizowanego społecznego systemu pomocy potrzebującym. Autor rozpatrzył jako oddzielny aspekt rosyjskiej dobroczynności jej powiązania z przedsiębiorczością, które pozostawiły w historii unikatowe zjawisko "złotego wieku rosyjskiego mecenatu" na przełomie XIX-XX ww.
Bibliografia
Aronov A.A. Golden Age of Russian patronage. M.: Moscow State University of Culture, Publishing House, 1995.
Buryshkin P.A. Merchant Moscow: Memoirs. M., 1991.
Vlasov V.P. Abode of mercy. M. 1991.
Gavlin M.L. Russian entrepreneurs: spiritual appearance, patronage // History of entrepreneurship in Russia. Book 2. The second half of the XIX - the beginning of the XX century.- M.: ROSSPEN, 2000.
Gogol N.V. Collected works. V. 4.-M .; L., 1951.
Dmitriev M.N. Houses of diligence. - St. Petersburg, 1900.
Kliuchevskiy V.O. Historical portraits. The figures of historical thought, Red., Intro. art. and note by V.A. Alexandrov. M., 1990.
Kuzmicheva A., Petrova R. Russian millionaires: Family chronicles. M., 1993.
Kulibina M. The influence of corporate social responsibility on the brand and business reputation of the company / Kulibi-na M., V. Antonov // Marketing. - 2008.
Nuvakhov B.Sh., Lavrov I.G. Development stages of mercy and charity in Russia in XVIII-XX centuries. // Problems of social hygiene and history of medicine. - M., 1995.
Samal I.N. Dubik O.V. Patristic doctrine of mercy // Russian Athos as a factor of spiritual enlightenment of Russia: by the millennium of Russian presence on the holy mountain (1016-2016): Collection of materials of the III International Scientific and Practical St. Tikhon Conference. Pskov, 2016.
Sokolov A.R. Russian charity in the XVIII-XIX centuries (to the question of periodization and the conceptual apparatus) // Domestic history. - M., 2003.
Chalyapin F.I. Mask and Soul: My forty years in theaters. M., 1989.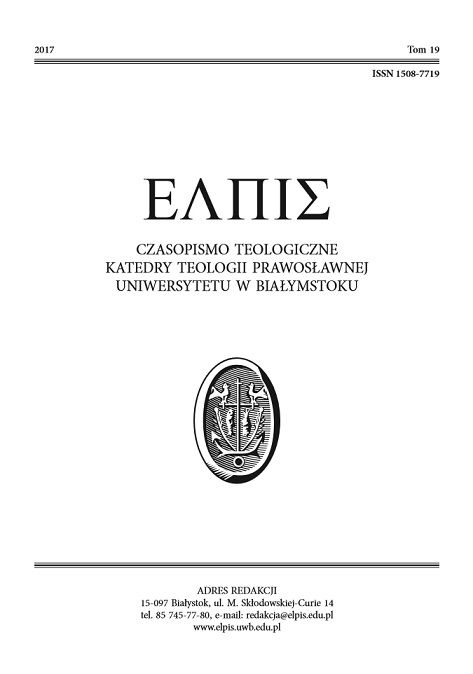 Jak cytować
Yarema, R. (2017). Zjawisko dobroczynności w Rosji: cechy charakterystyczne. Elpis, (19), 211-216. https://doi.org/10.15290/elpis.2017.19.25
Autor musi wypełnić i przesłać na adres redakcji (elpis@uwb.edu.pl) uzupełnioną i podpisaną umowę autorską wraz z oświadczeniem o oryginalności artykułu i wkładzie autora w powstanie artykułu. Plik umowy do pobrania: TUTAJ