"Muzyka zwrócona ku Bogu"
Słowa kluczowe:
teolog, kompozytor, Pasja, Liturgia, Całonocne czuwanie, Oratorium Bożonarodzeniowe
Abstrakt
Metropolitan Hilarion (Alfeyev) who is the chairman of theDepartment of External Church Relations of the Patriarchate of Moscowis a closest associate of Kirill, Patriarch of Moscow and all Russia.He is also a Doctor of theology and philosophy, and at the same timea renowned composer and fine musician.
His path as a composer as he says himself was unusual andunique. As a child he revealed a great gift for music – he could becomea composer of the world calibre. However, he gave up music, as he thenthought forever. He forbade himself not only to create music but evento listen... He had to take a choice – to serve the Orthodox Church orto music. He chose the Church, sacrificing his music career altogether.When he was 15, the Orthodox religion became the dedication of hislife. "I gave myself away to God and the Church and since then my lifehas never again belonged to me" – says Hilarion.
Only after many years, he broke that internal ban and returnedto composing music. Then he wrote sacral compositions, which debutperformance was a great success in the world largest concert halls: NewYork, Moscow, Vienna, and Vatican.
Metropolitan Hilarion is the first Russian theologian who studiedin Oxford (England) where he also had his doctorate. However, headmits that the biggest influence on his formation as an orthodoxclergyman and a person was the time he spent in the non orthodoxenvironment, when he had to defend his faith in front of people who belonged to other religious traditions. The theme of Tradition has sincethen become the main subject of all his theological books.
His musical compositions have been written for the OrthodoxLiturgy and are performed in the church as well as in the concert hall."My goal was to give as many people as possible a chance to get toknow the Orthodox culture, that spiritual tradition which fascinatespeople in the Orthodox Church. I would like to expand the churchaudience and to show it that spiritual wealth which the OrthodoxChurch has" – says the composer.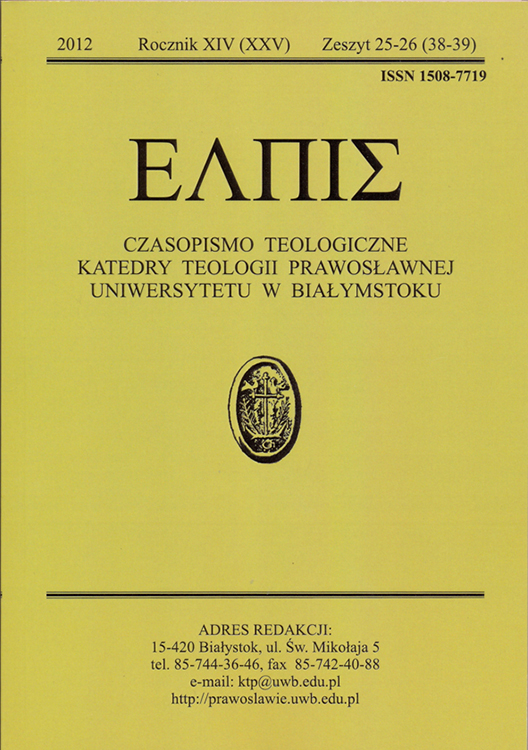 Pobrania
Jak cytować
Vorozhko, A. (2014). "Muzyka zwrócona ku Bogu". Elpis, (14), 413–437. Pobrano z https://elpis.uwb.edu.pl/index.php/Elpis/article/view/95
Licencja
Szczegółowe warunki licencji CC BY-SA (Uznanie autorstwa - Na tych samych warunkach) dostępne jest na stronie Creative Commons - link.
Autor musi wypełnić i przesłać na adres redakcji (elpis@uwb.edu.pl) uzupełnioną i podpisaną umowę autorską wraz z oświadczeniem o oryginalności artykułu i wkładzie autora w powstanie artykułu. Plik umowy do pobrania: TUTAJ